Lambertville Shad Fest 2014
Date/Time
Date(s) - 04/27/2014
12:00 pm - 5:30 pm
Location
Lambertville
Category(ies)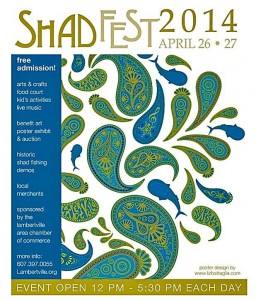 The thirty-third annual Shad Festival will be held from 12:30-5:30 p.m. on April 26 and 27, come rain or shine. And never an admission fee.
Each year the festival highlights the region's arts community, the City of Lambertville, the Delaware River, and of course, Lambertville's favorite fish, the shad. The festival has evolved from a local art show into a nationally recognized award-winning event. Shad Fest features the area's finest artists and crafters, great food, and family entertainment…but the two-day extravaganza also serves as a venue for local non-profit organizations to raise necessary operating funds.
Visit www.lambertville.org for general event information. Come to the centrally located Chamber table and pick up your O'fish'l Shad Fest T-Shirt designed by a local artist.
More info:
Artists and Crafters: 80 of the region's finest artists and crafters featuring everything – jewelry, ceramics, furniture, apparel, accessories, home décor and more.
In The Food Court: Everything from taco salads to fried calamari! There will also be the tried and true favorites: shad chowder, hot dogs, fried oreos, hamburgers, fries and fresh lemonade for the traditionalists! Don't forget to try some of Wild Bill's Olde Fashion Soda featuring wonderful homemade flavorslike root beer, cream soda and sarsaparilla.
Family fun: Face Painting, Sand Art, and other children's activities. Kids will go crazy for the rides because they're back. Don't miss the fun and educational shad seining demonstrations down at Lewis Island where the Delaware River Basin Commission will be teaching us about how to test water quality.
Poster Display and Auction Over 150 original art posters, created and donated by local artists, are on display during Shad Festival weekend in the recreation room of the First Presbyterian Church, 31 N. Union St. These posters will be auctioned off on Sunday at 3 p.m. – the proceeds going to scholarships for students pursuing a collegiate career in the arts. Stop by the church to see auction posters. Local school children's posters will be on display at the Justice Center, 25 S. Union Street. Visit www.shadfestposters.com for more information.
Music

Saturday, April 27
Noon – 12:45  WILSON WEED
1- 2               THE LIFTERS
                     Bill Linderman – Keyboard, Blues    Harp, Vocals
Brian Helriegel – Drums, Vocals
Mike Testa – Rhythm Guitar, Blues    Harp, Vocals
Jim McClurken – Lead Guitar,    Vocals
Jeff Brown – Bass, Sax
2:30 – 3:30     JOHN SONNTAG and the TALL TONES
                    John Sonntag – Guitars, Vocals
Brandon Kurzawa – Drums
Mark Nixdorf – Bass
Mike Lorincz – Guitars
4 – 5             THE SHACKERS

Sunday, April 28   
Noon – 12:45  TIE DYE HILLBILLY DANCE PARTY
1 – 2              THE MONDAYS
                    John Aita – Guitar
Tristan James – Bass
Ken Carmen – Keys
Scott Viscardi – Drums
2:30 – 3:30     THE JAZZMEN
                    Bob Miles – Guitar
Sam Haines – Bass
Ray Force – Drums
Jack Rudy – Keys
Rich Housel – Sax
Kevin Richardson – Sax
4 – 5            THE SHAXE