Date/Time
Date(s) - 05/11/2014
12:00 pm - 1:00 pm
Location
Starbucks
Category(ies)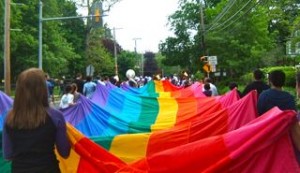 Key West Rainbow Flag Unfurled
12:00 noon – 1:00 pm
at Starbucks on Main & Bridge St. at Noon, Free
Celebrating our seventh year and keeping with tradition the NHC Team will unfurl a 100-foot portion of the Key West rainbow pride flag in it's original eight rainbow colors. The original Key West flag was created by Gilbert Baker, sponsored by Absolut and graced Duval St. in Key West 10 years ago this year.
Pride Week 2014 in New Hope.
2014 is proving to quite a year of change for New Hope Celebrates!  From new board members to a fabulous new website and now (drum roll please…) we are proud to announce that we are bringing together our two towns by expanding the Pride Parade to kick off in Lambertville!
And what a perfect year for our symbolic BRIDGE TO EQUALITY as the movement toward same sex marriage sweeps the nation!  We invite you to join us on
Saturday May 17th
when we march through Lambertville and across the bridge to New Hope, symbolically showing how it is only a matter of time before marriage equality will cross the bridge to Pennsylvania!
For the first time in history, the Annual Pride Parade, the signature event of Pride Week will kick off in Lambertville, New Jersey before marching into New Hope. The parade will begin at Lambertville City Hall and march to The Lambertville House on Bridge Street where the parade will pause briefly as Lambertville Mayor David DelVecchio performs a same sex marriage.  The parade will then continue down Bridge Street and will pause again on the state line, allowing Mayor Larry Keller and other Pennsylvania politicians to join the marriage float before the parade continues into Pennsylvania, symbolically bringing marriage equality to Pennsylvania.    
Special guests Victoria Lace and the honorable Mayor Keller will serve as MCs for the parade. Watch the parade from excellent viewing points at The Lambertville House, The New Hope Lambertville Bridge, Karla's, John & Peter's, Havana and Fran's Pub!  The Parade begins at 11:30am and will conclude at approximately 1pm.