High-Energy Dance Band Coming to Crossing Vineyards
Date/Time
Date(s) - 08/01/2014
7:00 pm - 9:00 pm
Location
Crossing Vineyards and Winery
Category(ies)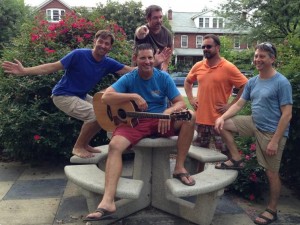 Music-lovers can pair The Mango Men's island-infused pop, rock and country staples with Crossing Vineyards' wines as part of the Bucks County winery's Summer Wine and Music Series.
The performance, which is set for Aug. 1, is part of the seven-concert series, which continues through Sept. 12 in Upper Makefield Township.
The evening concert will showcase some new songs the 19-year-old band has been working on, according to singer/guitarist/harmonica player John Creidler.
"Everything that we do is upbeat," Creidler said, adding that The Mango Men typically "throw in an occasional Jimmy Buffett song" and a handful of original tunes too. "We pretty much cover the gamut of rock and country, old and new."
And while Creidler said the summer concert series favorites always draw a "packed house," he said the band works to create a new interactive experience each time.
"Every year we come out with a new show, a fresh show," Creidler said.
Annual trips to Key West help to hone the band's island melodies too. The Mango Men, which will perform at Crossing Vineyards on Aug. 1, is comprised of Creidler, acoustic/electric guitarist/vocalist Tom Falcone, bassist Bob McGarry and steel drummer John McGarvey. The Summer Wine and Music Series, which this year is being sponsored by Celebrity Cruises, will continue with two additional concerts through Sept. 12.
If you go
The 7 p.m. concert at the winery, 1853 Wrightstown Road in Upper Makefield Township, also features cheese and Crossing's award-winning wines for purchase by the bottle or glass. Concert-goers can bring their own food, but outside beverages are not permitted. Limited seating is available on a tent-covered patio. Wine Club Members may reserve table seating in advance. Patrons are encouraged to bring lawn chairs.
Admission is $10 in advance, $15 at the gate.