Film tracing 200-year history of New Hope-Lambertville Bridge at Bucks County Playhouse
Date/Time
Date(s) - 04/10/2014
7:30 pm
Location
bucks county playhouse
Category(ies)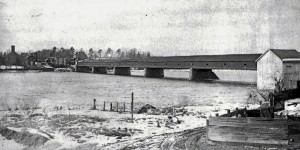 The New Hope Historical Society will premiere a film it helped produce that details the history of the New Hope-Lambertville free bridge at 7:30 p.m. on April 10 at the Bucks County Playhouse, itself an iconic structure.
The Historical Society produced the film in conjunction with Delaware Valley Video of Lambertville, NJ.
About a year and a half in the making, the documentary, "The New Hope-Lambertville Bridge: Connecting Two Towns-Spanning Two Centuries," includes rarely-seen images of the bridge from the past 200 years. Experts, historians and residents of the two communities have contributed their perspectives and knowledge about the bridge's great history, say event organizers.
"We are truly excited about this production," said Historical Society President Dee Dee Bowman. "I congratulate all of those who have dedicated so much time, research and effort to tell the story about the amazing history of the New Hope-Lambertville Bridge," she added.
Admission to the premiere is $20 for members of the New Hope and Lambertville Historical Societies, and $25 for non-members. The ticket price includes a complimentary copy of the documentary. At 6 p.m., a champagne reception will be held at the Parry Mansion where guests can mingle with the cast and crew of the documentary. Admission to the reception is $75. Reserve now at newhopehs.org or call 215-862-5652. Copies of the DVD are available online from the Historical Society.