Nonstop laughter with 'The Producers' at Bucks County Center for the Performing Arts
By John Dwyer
"The Producers" is a laugh riot.
Before it came to Broadway in April 2001, it had received raves in Chicago. Family members who had seen it there told me that it was something special. How right they were!
It is the brainchild of the hilariously manic Mel Brooks, whose movie by the same name was a success back in 1967, starring Zero Mostel and Gene Wilder as theater producer Max Bialystock and accountant Leo Bloom. The tale is of how Max Bialystock, an unsuccessful theater producer, is exhausted by his string of flops. He has a bunch of old lady investors that he taps, but the verb taps is a double entendre and he is exhausted. When Leo Bloom, an accounting schlemiel, does an audit on Max, they discover that it would be possible, if a play fails where they brought in more investors than the play cost, to fix the books and make a fortune with the overage. But the play would have to fail, so they must actively screw everything up. Can they successfully flop on their tocheses? That is the premise of the story.
David Geffen convinced Mel Brooks to turn his movie into a full-fledged musical. Initially, the music was going to be by Jerry Herman but he told Brooks to do it all himself because he was a good composer. Truer words were never spoken, because Mel Brooks created a record-breaking Broadway Musical. His musical won more Tony Awards than any in the history of the Broadway theater –an amazing 12 awards. The show won in every category it was nominated in and had a record-breaking 15 nominations. (The extra nominations were in acting categories where another actor from "The Producers" won the award.)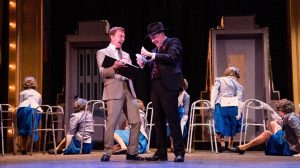 The American Film Institute said the original movie was the eleventh funniest film of all time. It is not only the humor, the one-liners, and the concept of the story of two con men trying to rig the system that is appealing. In the final analysis, it is also a love story between Bialystock and Bloom. It is a buddy picture. It is the affection of two guys who were better for meeting each other, concocted the most amazing scheme and became what would now be termed "BFFs."
You need a force of Trumpian grandeur to be the King of All Broadway, as was Max Bialystock. But yet, the character needs heart. The lovechild of Donald Trump and Soupy Sales could perhaps be Max Bialystock. Or it could be the wonderfully funny, charismatic Tony Braithwaite in the Bucks County Center for the Performing Arts production. If he had joined the audience in the lobby for intermission, I am sure he could have sold some shares of "Springtime for Hitler" to theatergoers, who were so enamored of him already that it would have been an easy sell.
Zachary Chiero bloomed as Leo Bloom from the nascent man-child with" blankie" in tow to a full adult by end of Act Two. Kenneth Derby as Roger Debris and Will Stephan Conell as Carmen Ghia were side-splittingly funny as the worst director in New York and his boyfriend assistant, respectively. Mackenzie Newbury was, as Mel Brooks might say, "Va-va-va-voom!" as the leggy, buxom producer's assistant and starlet Ulla Inga Hansen-Bensen-Yanson-Tallen-Hallen-Svaden-Swanson, who was told that she could be the biggest (if not longest) name on Broadway. Kevin Toniazzo-Naughton as the playwright Franz Liebkind is everything you might hope for in a singing Neo-Nazi.
Kudos to one of the strongest ensemble choruses you are likely to see. They take on multiple roles, have incredibly fast costume changes, and are singing and dancing fools that will totally amaze you.
Two minor notes on the critical side: First, there is a line where Leo apologizes for calling Max fat. This Max is not fat. Secondly, the limited stage space and budget mean that the set and costumes for "The Springtime for Hitler" are not as grandiose as seen on Broadway. It's a matter of where you put your resources.
Regardless, "The Producers," directed by Dann Dunn for the Bucks County Center for the Performing Arts is a hit. The reviews will be coming in, and I am sure the producers of this show will be dancing in the streets as hardily as the dancers are onstage, and the audience will be clapping until they can clap no more.
This raucously funny show runs through Aug. 18, and tickets can be purchased online. Bucks County Center for the Performing Arts is located at 700 E. Butler Ave. in Doylestown.