Passing of Patricia Ann Buchanan of Lambertville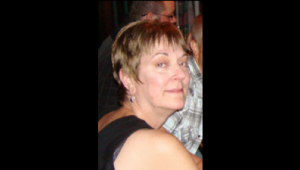 Patricia Ann Buchanan, 65, passed peacefully from this world into the arms of our heavenly Father on Aug. 5.
Patricia was born in Trenton, N.J., on May 15, 1954, to Robert J. and Joyce M. Hayes. She lived in Lambertville her entire life.
She was a talented seamstress, an avid reader, amazing cook and an extraordinary gardener. She loved to travel, visiting Italy, Greece, Turkey, France, Jamaica, Bermuda, and Hawaii, some on more than one occasion. She was also a diehard Eagles football fan and was ecstatic to witness their first Super Bowl victory.
Patricia graduated from South Hunterdon Regional High School in 1972, where she was the valedictorian of her class and an involved member of various clubs and athletics. She was married to Winfield on Sept. 15, 1972. She was a Grand Matriarch of the Eastern Star of Lambertville.
She began her career as a secretary in multiple law firms and became the secretary and bookkeeper for the self-owned construction business, Buchanan Construction, Inc. Patricia was an active member of the First Presbyterian Church of Lambertville, where she was currently an Elder, previously a Deacon, and was a member on various committees.
She was active in the women's bible study, and she cherished her time and experience as a Sunday school teacher. She also enjoyed outings with her sisters in Christ to various plays, dinners, and the annual Women in Faith Retreat.
A dedicated and loving mother, Patricia never missed a concert, sporting event, or anything else that her kids or grandkids were involved in. She was predeceased by her husband, Winfield, having enjoyed 38 years of marriage before his death. She is also predeceased by her parents. She was the devoted mother to four children, Heather L. McIntyre and her husband, Nathan, of Easton; James P. Buchanan and his husband, Shakil, of Hamilton, N.J.; Caitlin H. Stratuik and her husband, David, of Pennington, N.J.; and Erin A. Durborow and her husband, Patrick, of Lambertville. She is also survived by three brothers, Robert Hayes, Jr. and his wife, Barbara; Richard Hayes; and Joseph Hayes and his wife, Kay, all of Lambertville. Patricia was the loving grandmother to 10 grandchildren: Megan, Sarah, Hannah and Ryan McIntyre, Chase, Levi and Julia Stratuik, and Sean, Declan and Quinn Durborow, whom she called the sunshine of her life. In addition, Pat is survived by many nieces, nephews, cousins, aunts and uncles.
Funeral services will be held at 11 a.m. on Friday, Aug. 9, at the first Presbyterian Church of Lambertville, 31 N. Union St. Burial will follow in the Holcombe Riverview Cemetery in Delaware Township, N.J.  Calling hours will be on Thursday, Aug. 8, from 6 tp 9 p.m. at the Lambertville-New Hope Rescue Squad Building, 70 Alexander Ave., Lambertville.  Donations in lieu of flowers may be made to the Union Fire Company, 230 N. Main St., Lambertville, NJ 08530.