Hunterdon County pays Pennsylvania to spray for black flies after N.J. balks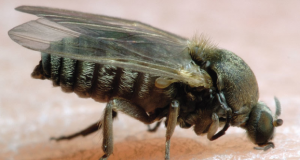 Hunterdon County has paid the Pennsylvania Department of Environmental Protection (PADEP) $10,500 to cover part of the cost for Thursday's spraying to suppress black flies along the New Jersey side of the Delaware River.
The county had been talking with with the New Jersey Department of Environmental Protection (NJDEP) for several weeks about having the agency pay for spraying along the river. Those negotiations started after New Jersey decided to discontinue financial support to Pennsylvania for spraying along the New Jersey side of the Delaware River in Mercer, Hunterdon and Warren counties.
In early July, the PADEP announced that black fly spraying would take place only along the Pennsylvania side of the Delaware River and not the New Jersey side due to lack of New Jersey financial support. The county received an email notification from the NJDEP on July 27 stating "we are unable to participate this year."
"We were very disappointed to learn the state was not holding up its end for this important public health initiative, as it had done the previous two years," Hunterdon County Freeholder Board Deputy Director John E. Lanza said Friday.
Hunterdon Freeholders reached out to officials representing river towns requesting support for the funding.
Lanza said,"We are greatly appreciative of Pennsylvania including Hunterdon County's portion of the river in their final spray operation of the season," said Lanza. "They were very cooperative at adding us at the last minute."
"Black flies are not just annoying and intrusive, they have a negative impact on the quality of life for residents in communities along the river, as well as on tourism and other outdoor economic activities," Lanza added. "This program is a [N.J.] state responsibility because it normally covers Mercer, Hunterdon and Warren Counties. The state has dropped the ball and as County officials we felt we needed to act to at least have the Hunterdon portion of the river sprayed, in order for our residents to gain some relief."
According to the PADEP, the material used for spraying is a naturally occurring bacteria (Bacillus thuringiensis israelensis) that kills the immature (larval) form of the black fly when they feed on it in the waterways.
Black flies, at about 1/8″ in length, are much smaller than a house fly, according to PADEP. They are often referred to as "gnats," and they often swarm around the heads of people on warm days. Swatting them is useless as they are quick to return, often flying into people's eyes and sometimes delivering a painful and itchy bite — which is actually a shallow cut.
Swarms often appear around moving bodies of water, like creeks, rivers and streams.
Since the early 1980s, PADEP has had a Black Fly Suppression Program to monitor and treat approximately 1,517 miles of Pennsylvania rivers and streams to ensure that the black fly populations are tolerable.