Congressman Fitzpatrick backs resolution condemning Trump's racist remarks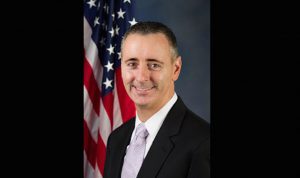 U.S. Rep. Brian Fitzpatrick (PA-01) became one of only four Republicans to break ranks Tuesday evening to vote in favor of a House resolution condemning President Trump's racist remarks targeting four Democratic congresswomen of color.
Fitzpatrick, along with Reps. Will Hurd (Texas), Susan Brooks (Ind.) and Fred Upton (Mich.), joined Democrats in backing the resolution.
The resolution passed the chamber by a vote of 240-187
"The language and tone being used by so many in our country needs to change," Fitzpatrick tweeted Tuesday evening. "The Hatfield versus McCoy brand of politics must end. Democrats and Republicans need to start treating each other respectfully and like human beings. We are all created in the image and likeness of God."
On Sunday, Trump asserted in a series of tweets that the congresswomen — Reps. Alexandria Ocasio-Cortez of New York, Rashida Tlaib of Michigan, Ilhan Omar of Minnesota and Ayanna Pressley of Massachusetts — should "go back and help fix the totally broken and crime infested places from which they came."
Brian Fitzpatrick was elected to the United States House of Representatives in 2016 to represent the people of Pennsylvania's Eighth Congressional District. Following redistricting in 2018, Congressman Fitzpatrick was elected to represent Pennsylvania's First District, which includes all of Bucks County and a portion of northwestern Montgomery County.