REVIEW: Beautifully produced 'Marjorie Prime' at Langhorne Players in Newtown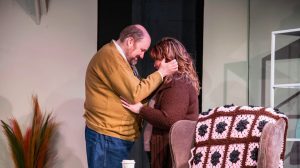 By John Dwyer
First off, kudos to Langhorne Players for continuing to do excellent work. The Bucks County area is historically defined as a welcoming place for writers and those in both the fine and performing arts. Langhorne Players honors that history by providing thought-provoking work by excellent playwrights that those of us who love drama are eager to see. Well received off-Broadway shows that hardly get any exposure outside their initial production in New York are taken up by this troupe. Their choice of plays to produce and the quality of actors they get are the reasons why so many come to this charming small theater in a converted mill.
"Marjorie Prime" by Jordan Harrison was a 2015 finalist for the Pulitzer Prize in Drama, and was made into a film that initially screened at the Sundance Film Festival. The play was produced initially at the Mark Taper Forum in L.A. in 2014, and then at Playwrights Horizon in New York in 2015. This is a memory play of sorts. But when you say "memory play" that usually means that you are telling a story from your past. This play is different, as it is about memories and how they fit into our lives for better or worse.
The play is a piece of science fiction set in the not-so-distant future. The premise is what if we could create an image, a hologram of a loved one who passed and be able to interact with them in the present. The image and voice would be accurate but whatever it would say, would come from memories that we input into it. The thinking in this brave, new world would be "We look to technology to solve so many of our problems, so why not our emotional ones?" The problems this technology would address are faulty memory, unfulfilled issues with the departed and a fuller experience in going over old times with the deceased. But substituting virtual reality for actual memories has problems of its own.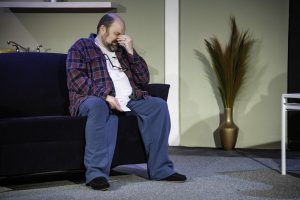 This thoughtful and mature work would seem to be that of a playwright who was presently old enough to go through multiple deaths of contemporaries, but he is only 42 years of age. Regardless, Jordan Harrison has written a thought-provoking play on the limits of man-made solutions in trying to conquer death and our sense of loss.
The play opens with 85-year-old Marjorie talking to a young man named Walter. We don't know who he is, but they are going over mutual remembrances. One of them was when they went to see "My Best Friend's Wedding, with Julia Roberts. They grouse that it would be a better, more romantic story if it were "Casablanca." This talk of romance seems odd between a 30-year-old man and an octogenarian, until you realize that the 30- year-old is not human. We are in the future and we now have "primes" that are made to look and sound like the dead. Marjorie has Alzheimer's and is starting to decline physically and mentally. Her daughter Tess and son-in-law Jon have bought the prime of her husband Walter and are filling it up with moments of the past to discuss with Marjorie. Marjorie chose to have the prime look like her husband prior to the birth of her daughter. This annoys Tess, who would have hoped that Marjorie would have chosen a time where the prime looked like the father she knew and not look like the handsome man that Marjorie first fell in love with. Tess has unresolved issues with her mother and is annoyed with her mother's inability to remember.
As the play progresses, other primes come into the family to cope with death and, supposedly, avoid depression. But the primes do not have the unpredictability of people and lack soul. The play has a surprise ending and emphasizes the special quality that exists in each and every person that cannot be created by a computer program. but is created by what some call God and others nature.
The cast is across the board wonderful. Carole Mancini is delightful and heartbreaking to watch as Marjorie. She is frisky and flirty with Walter Prime and touchingly frail with Tess. Christopher Lapinski as Walter is attractive, and you understand why Marjorie fell in love with him. But there is also some indefinable quality that Lapinski has given his character that conveys an emptiness a prime has but a person does not. Lapinski does a fine job.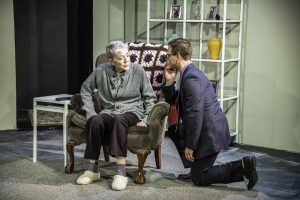 Tami (Feist) Amici as Tess ably showed the frustration with a life that has been lived in a safe, predictable and expected way. She has wanted more and certainly feels she deserves greater appreciation from her mother, Marjorie. Her excellent performance makes us feel the palpable stress Tess feels.
Marjorie's son-in-law, Jon is kind, devoted and earnest. Jack Bathke as Jon is everything you would want in a son, son-in-law or husband. Bathke has considerable range. He goes from the mundane to the heart wrenching. His last scene is so touching, it is hard not to cry yourself. Bathke put it all out there and gave an honest and emotionally transparent performance.
John Boccanfuso is to be commended for assembling a sterling cast who all gave memorable performances. The play is a fast-paced 80 minutes and I urge you to go and see it for three reasons: 1) The play has much to say about being human and what that means in a technological age, 2) It was nominated for numerous awards, including the Pulitzer Prize for Drama and the playwright is a significant writer who is doing thoughtful, noteworthy work, and 3) Support this gem of a theater whose venue is charming and small — with not a bad seat in the house, and whose mission is to do smart work from off-Broadway. These are the plays that are on New York critic's best of the year lists that often are off-Broadway because Broadway is too expensive to mount shows. They do not come around very often. See it now.
"Marjorie Prime" runs until June 22, and tickets can be purchased online.