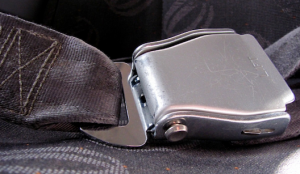 New Hope-Solebury High School is the overall winner of the 12th Annual Bucks County High School Seatbelt Safety Challenge, the Bucks Transportation Management (TMA Bucks) association announced Monday.
New Hope-Solebury student drivers had the highest overall seatbelt use (97 percent) over 19 other Bucks County high schools that participated in the challenge.
New Hope-Solebury High School, which was also the overall winner in 2010-11 and 2015-16, will be presented with a $500 cash grant from TMA Bucks, along with a perpetual trophy plaque.
"There is nothing more important than the safety of our students," said New Hope-Solebury High School  Principal Stephen Seier. "We are all proud that New Hope-Solebury students consistently wear seatbelts when in a vehicle, and are honored to be recognized with this award."
The school group that promoted the Seatbelt Challenge throughout the entire school year were student government officers Devon Beacham, Jack Gawason, Maggie DeVito, Hannah DeVito, Katie Mardiossian, Ben Dupont, Kayla Paul and Valentina Waschbush. These students were under the direction of teacher Jon Gonsiewski. Journalism students of Drew Giorgi also helped promote the challenge by creating videos for the Teen Driver Safety Video PSA Challenge portion of the challenge and screening them for all students.
"For several years we have seen a tremendous commitment and dedication from the entire New Hope-Solebury High School community in promoting seatbelt safety," said TMA Bucks executive director Steve Noll. "The administration, faculty and students not only take the Seatbelt Challenge seriously, but they find a way to incorporate different student groups into delivering positive messaging and the results speak for themselves."
In Fall 2018, baseline surveys on seatbelt usage by student drivers were conducted at high schools throughout the county without the knowledge of the student body or administration in order to ensure the most accurate data sampling. All schools were then challenged to raise seatbelt usage and participate in the Bucks County High School Seatbelt Safety Challenge.
TMA Bucks is a 501 (c) 4 non-profit transportation management association designed to promote and coordinate travel demand management strategies to reduce peak-hour traffic congestion and serve as a clearinghouse for transportation policies and programs throughout Bucks County.