REVIEW: Emotionally riveting 'Next to Normal' is a must-see at Town & Country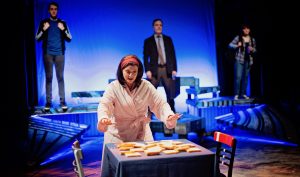 By John Dwyer
There are some things that are better the second time around. Not to say that the first time around was bad, but whether we are talking about revisiting a favorite book or play, going to a restaurant that you liked initially and trying it again, or even a leftover from just the preceding night, where you think, "Wow! That really was that good!"
Such is the case of "Next to Normal" for me, which I initially saw on Broadway with the original cast. It has so much to think about that it deserves to be revisited.
"Next to Normal" was a huge hit when it opened first off-Broadway at the great Second Stage Theater, and later on Broadway in 2009. It won the 2010 Pulitzer Prize for Drama — the eighth musical to do so. It won Tony awards for Best Score, Best Orchestration and Best Actress in a Musical. It is currently playing at Town and Country Players in Buckingham.
It would be unfair to hypercritically compare Broadway productions to local theater. As an aside, that is boring and instead of showing some snobby, pseudo-intellectual superiority, it shows shallowness as to not knowing the difference between the venues.
But, that dig aside to my theater-going public, you should run to get a ticket to this show for two reasons:
1) It is a show that addresses issues that often don't get discussed. This show, with its brilliant rock score, draws attention to a mental health crisis that so many families have been affected by. You are given an opportunity to understand and to empathize with a family where one of its members are emotionally broken and zoned out on mood-altering drugs. The topics are grief, depression, suicide, drug addiction and suburban life, a sense of identity for teenagers, the life and expectations of American suburbia, the limits of psychiatry. And, yes, with all that, the music soars and is not to be missed.
2) Town and Country's production is outstanding. You should treat yourself to see this talented cast of amazing singers and actors. They are great story tellers. You leave the theater realizing you have seen something special.
The show benefits not only by the actors onstage, but also by the smart, simple staging executed by director Nancy Ridgeway. Some musicals are splashy and benefit from a larger stage and greater house. With a musical as personal as this one, having a small house is a distinct advantage. The actors are, across the board, invested in their characters, and to have the immediacy of a 150-person house, you feel more of what this play is about than in a larger theater. I am specifically referencing the 800-seat Booth Theater in New York during its Broadway run. If you are 15 feet away from someone who is showing you their pain and grief of what has happened in their life, it is a different experience in a house where you are in the back of the orchestra or balcony. If you are not aware, the configuration of the theater is like a sandwich with the stage in the middle and the audience on both sides, which means 75 people approximately on either side to play to. Without having to play constantly front as with a proscenium stage, shows are afforded more natural movement. Town and Country is the perfect place to experience this award-winning show.
This musical deals with the issue of bipolar disorder with secondary mental psychoses. The protagonist, Diana Goodman (Melissa Angelo-Schiumo) has been living with the diagnosis for well over a dozen years after a triggering event. Her family is there for her which includes her husband, Dan (Brian Jason Kelly), son Gabe (John Yankanich) and daughter Natalie (Nicole Telesco).
In the course of the show, Natalie becomes involved with a high school classmate, Henry (Adam Zucal), who had been hanging around the piano room where Natalie practices. As the family copes with Diana's moods, Diana continues medical supervision under Doctor Fine, and then Doctor Madden (both played by Sean Matthew O'Neill). The rollercoaster ride of both patient and family is brutal, but the ambitiousness of the musical is realized. The audience is on that ride, too. There were several sniffles heard in the performance I attended. Be forewarned, this musical that will grab both heart and soul, especially true if you know someone suffering from grief and using medication to fight their demons.
For a musical, let alone a straight play, to tackle the subject matter is daunting. Tom Kitt wrote a brilliant rock score that is accompanied by inspired lyrics and book by Brian Yorkey. Highlights include Gabe's song "I'm Alive," sung with passion and conviction by Mr. Yankanich. There is Diane's tidal wave of emotions that are shown in "I Miss the Mountains" (about the manic lows and highs) and "You Don't Know." The latter song is done in counterpoint with "I Am the One" sung by husband Dan and son Gabe, telling Diane she has a refuge in both of them.
The music is complex, wonderful and effectively integrated in the honest mish-mash of humanity that this show presents. The sweet musical moments between Natalie and Henry are both lovely and effective due to the excellent singing, which is modulated and sincere. You will be totally blown away by Nicole Telesco and Adam Zucal.
Brian Jason Kelly is excellent as the stalwart husband, who tries to be strong. Sean Matthew O'Neill shines in his Town & Country debut as the doctors.
But the show's center is Diana. Melissa Angelo-Shiumo gives on every level a performance that is not next to normal but close to perfection. Her crystal clear voice is pitch perfect, even while being in the throes of confused disorientation and having an emotional breakdown. It is a privilege to watch this excellent actress deliver such a performance. She has brought her entire self to Diana, and has made this woman recognizable. Like "Death of a Salesman" where an everyman's identity is taken away and he becomes broken, "Next to Normal" is where a family, but especially Diana, the mother and wife, is broken, without a sense of purpose, and falls into mental illness. Brava, Ms. Angelo-Shiumo.
I would be remiss not to mention the excellent musicians in the orchestra: Joe Nappi (piano), Rusty Stauffer (violin), Tom Zaneski (guitar,) Nick Terramani (bass) and Josh Fremet (percussion). Kudos to Joe Nappi, who was also musical director.
Don't dilly dally. Run to get tickets. With word of mouth and limited seating, this could sell out, and you do not want to miss this one. The show runs through May 11, and tickets are available online.