Fun-filled Carversville Day returns May 18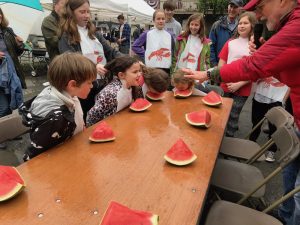 Carversville Day, a fun-filled outdoor event featuring family activities, live music, food, a pet parade, and a watermelon eating contest, will be held on Saturday, May 18.
It all takes place from 10 a.m. to 3 p.m., rain or shine, and admission is free, as is parking at the Carversville Church on Aquetong Road. New this year is the Beer Garden presented by local Free Will Brewing Co. (must be 21 or older with valid ID).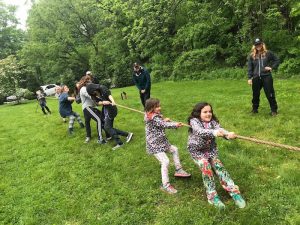 Attendees are invited to bring pets in costume to win Best Costume and Trick prizes, and submit four dozen baked cookies to be entered in the popular cookie contest. People's Choice Best Cookie wins a one-of-a-kind hand crafted cookie jar by local potter Nan Kirstein.
"Everyone looks forward to the return of Carversville Day," said event chairperson Laura VIehweger. "This year we are excited to launch a Beer Garden with our local friends from Free Will Brewing, along with the addition of a 20-minute Historical Walking Tour with Carversville resident Marnie Leasure."
Full schedule:
Cookie Contest entrants drop off cookies (9:45 a.m.)
Live Music by Michael Arenella and his Dreamland Orchestra; Secret Garden Activities – Face Painting, Braiding, Henna Tattoos (10 a.m.)
Magic Show – Performance in the Creek Side Meadow (11 a.m.)
Field Games (11:30 a.m.)
Pet Parade (register by 11:45 am) — Best Costume & Trick prizes; Free Will Brewing Beer Garden Opens (12 noon)
Live Music by David Stier and his ensemble; Historical Carversville Walking Tour (20 minutes) – Meets at HCS Booth (12:30 p.m.)
Tug of War (1 p.m.)
Watermelon Eating Contest (1:30 p.m.)
Live Auction & Cookie Contest voting closes (2 p.m.)
Following the live auction, the cookie contest and raffle winners will be announced.
All proceeds from Carversville Day benefit the Historical Carversville Society.
In 1726, the first settlers arrived to the area for the construction of several mills along the Paunacussing Creek. More than 100 years later when the post office was established in 1833, it was named Carversville in honor of the Carver family who were early settlers and mill operators.