Bridge reopened on River Road in Tinicum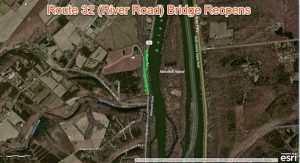 The Pennsylvania Department of Transportation (PennDOT) has reopened the bridge carrying Route 32 (River Road) over the Delaware Canal in Tinicum Township following the completion of interim repairs.
PennDOT's contractor replaced the existing deck, steel beams, and guide rail, and performed minor repairs to the stone masonry abutments.
Built in 1932, the single-span steel I-beam bridge is 45 feet long, 18 feet wide and carries an average of 2,132 vehicles a day.
PennDOT is in the early engineering phase of a project to rehabilitate or replace the bridge.
Repairs were performed under PennDOT's $11,766,000 project to rehabilitate 11 bridges in Bucks, Chester, Montgomery and Philadelphia counties, and replace six culverts in Bucks, Chester and Delaware counties.