Lambertville receives 'Sustainable Champion' award for environmental efforts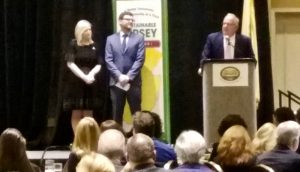 The City of Lambertville announced Monday that it has received the Sustainable Champion award, Sustainable Jersey's highest honor, for attaining the most points in the organization's certification program for towns with a population under 5,000.
Mayor Dave Del Vecchio accepted the award on behalf of the city at Sustainable Jersey's annual luncheon held last week in Atlantic City. 

Lambertville achieved a "silver" level,  with 350 certification points– an upgrade from its previous "bronze" designation. The accreditation recognizes Lambertville's work on 32 separate activities across 14 different categories. Lambertville's score improvement is due to the city more than doubling the amount its sustainability work as compared to previous certification cycles.

"We continue to be encouraged and inspired by cities and towns like Lambertville that are making a difference for New Jersey's environment," said Randall Solomon, executive director of Sustainable Jersey. "I'd like to congratulate the city for their efforts and dedication to building a more sustainable community and contributing greatly to the long-term goal of a more sustainable New Jersey."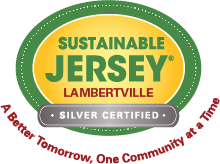 "No matter what is happening on the national level with regards to climate change, each city and town can take action," said Lambertville Mayor Dave Del Vecchio. "Lambertville is committed to doing our part. Receiving the 2018 Sustainable Champion award shows that we are working towards this important goal."

Del Vecchio thanked the Lambertville Environmental Commission for all their hard work on this initiative.

Projects recognized under the silver certification, among included:

·        Cavallo Park rehabilitation

·        Lambertville Goes Wild programming to increase the number of Gardens for Wildlife in Lambertville toward becoming a certified Community Wildlife Habitat
·        Recycling of non-mandated materials
·        The recycling depot at Public Works
·        The Food Waste/Third Can Program
·        Sparkle Week
·        Digitizing public information and municipal online public service systems
·        Community Forestry Plan with a Tree Cover Goal of maintaining Lambertville's tree canopy to at least 50%.
·        Tree Protection Ordinance and Tree Maintenance Programs
·        Sustainable Land Use Pledge
·        PennEast Pipeline Committee
·        Initiative to switch street lights to LED lights
·        The plastics ban ordinance regarding food containers, straws, plastic bags, etc. in food sales, with Phase I (opt-in) having started Oct. 1
·        Heat Island Assessment for the town
·        Lambertville pledge to support the N.J. Wildlife Action Plan
Sustainable Jersey provides tools, training and financial incentives to support communities as they pursue sustainability programs. Currently, 79 percent or 448 of New Jersey's 565 municipalities are participating in the municipal certification program and 310 school districts and 799 schools are participating in the Sustainable Jersey for Schools certification program.