Jackie 'The Joke Man' Martling takes the stage at RRazz Room New Hope Oct. 13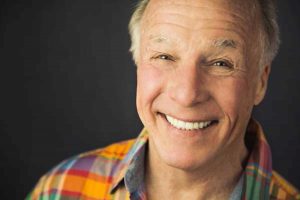 Jackie "The Joke Man" Martling rolls into New Hope on Saturday, Oct. 13, for an evening of comedy with special guest Rich Harkaway at the RRazz Room.
Radio personality, stand-up comedian, comedy writer, and singer-songwriter Martling was a cast member and head writer for "The Howard Stern Show" for 18 years. Martling boasts a catalog of over 30 joke CDs, joke videos and other products, produced by his own JokeLand Inc. and distributed by Oglio Records. He lives on both Long Island and in New York City.
As he was accumulating what he refers to as "the world's most extensive collection of jokes," Martling struggled in the music business until abandoning it in 1979, saying farewell to his beloved trio "The Off Hour Rockers" to give the comedy business a shot on Long Island.
In 1979, he co-produced comedy shows at the Cinnamon bar/restaurant in Huntington, Long Island, and released three self-produced comedy LPs, "What Did You Expect?," "Goin' Ape!" (1980) and "Normal People Are People You Don't Know That Well" (1981).
In 1982, after founding "Governor's Comedy Shop" in Levittown and touring as a national headliner, he blindly sent his three LPs to Howard Stern at WNBC-AM in New York City. Stern called him to make a guest appearance on his radio show, and in 1986, Martling became a full-time cast member and the head writer.
Since then, he's released six CDs,"The Joke Man," "Sgt. Pecker," "Hot Dogs & Donuts," Come Again?!," F. jackie," and "snart," as well as three videos, five joke books and countless joke gadgets of all kinds. In 2006, he released a CD of his original music entitled "Happy Endings" that he co-produced with guitar legend Frank Vignola. From 2007 to 2014, Martling wrote and performed his own radio show on SiriusXM Satellite Radio, "Jackie's Joke Hunt."
Martling will appear at the RRazz Room at the Clarion Inn & Suites, 6426 Lower York Road, on Saturday, Oct. 13 at 8 p.m. Tickets are $30 for general admission; $35 day of show.
For more information and to purchase tickets, visit the RRazz Room online or call (888) 596-1027.