Families Belong Together rally in Lambertville Saturday draws large crowd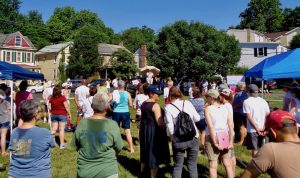 More than 200 area residents rallied at the North Union Street Park in Lambertville Saturday as part of Families Belong Together demonstrations scheduled around the country to protest the government policy of separating migrant children from their parents and failing to reunite them.
The Families Belong Together "Day of Action" included more than 710 events in all 50 states and an anchor protest in Lafayette Square in Washington, D.C.
Sponsored by Indivisible Lambertville-New Hope, the Lambertville rally drew an enthusiastic, vocal crowd from 9 to 10:30 a.m. as temperatures surged past the 80-degree mark on their way to the mid-90s.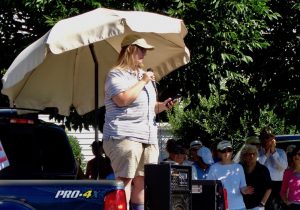 The group demanded that the Trump Administration permanently end the practice of family separation and immediately reunify those that have been separated.
"ICE must release parents immediately so that the Office of Refugee Resettlement can reunify them with their children," Indivisible Lambertville-NewHope said in a statement. "Children and families deserve due process, not indefinite imprisonment. Children do not belong in baby cages and internment-like camps. Family incarceration is not the solution to family separation."