New Hope mayoral candidates Geri Delevich (D) and Larry Keller offered contrasting visions and values at a meet-the-candidates forum Thursday evening that was not without its moments of unexpected drama.
Hosted by the New Hope Chamber of Commerce at a packed Dubliner on the Delaware, the gathering featured a short presentation by each candidate, along with a brief public question-and-answer session.
Delevich began by highlighting her belief that New Hope's diversity is its strength, along with what she considers the valuable insight she gained through 33 years of teaching children.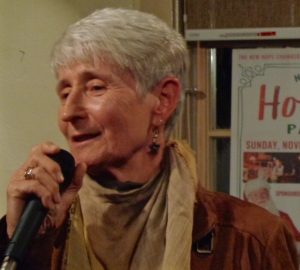 "One of the things you learn about people is that when you have respect for who they are, and when you appreciate their individual talents and uniqueness, the most important thing is what's in their heart and what's in their soul and what's in their mind," Delevich said in her opening remarks.
The Democratic contender also stressed the importance of community support for school children.
"As mayor, I would like to be at school that first week, shaking kid's hands as they get off the bus, telling them that we really believe you are our future, and we want you to do the best that you can, and we're back there supporting you," she said.
And Delevich underscored her support for local businesses.
"I would like to be the person who can call up Channel 3, 6, or 10, and say 'I'm the mayor of New Hope, and we're having a winter festival.'"
During the question-and-answer period, Delevich fielded questions on alleviating traffic congestion at the intersection of Bridge and Main streets, fixing New Hope's historically uneven sidewalks, addressing the shortage of visitor parking, and getting restaurants to abandon their use of plastic straws.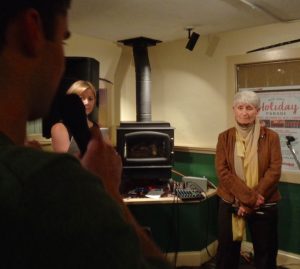 Local innkeeper Carl Glassman asked the candidate whether she favored merging police departments with Solebury Township as a means of addressing the borough's burgeoning budget.
"I like the home town feel of our police department," Delevich responded.
Incumbent Mayor Keller began his presentation by asking audience members to consider his leadership during the natural disasters of recent years, and to look past his Republican party affiliation. Most registered voters in New Hope are Democrats.
"We've been through the good times and the bad times in the 20 years I've been here," Keller observed. "We talk about the floods and the power outages, and we all helped each other, and it's never been for me about party affiliation, and I think it's important that you all look at me, and not think of whatever my party may be."
"I want to vow that the last 20 years I've served as your mayor, I'll do another four just like I did," added Keller.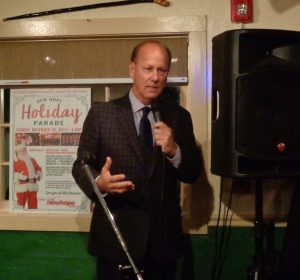 The mayor wrapped up his opening remarks quickly, and moved on to the question-and-answer portion of his presentation, where he was asked about his views on the biggest challenges facing New Hope.
"I'm concerned about how we're expanding," replied the mayor. "Certainly, if and when Odette's gets done, and the Logan Inn gets built out, and the Playhouse Inn is finished, certainly the challenge is congestion and parking."
Keller proposed constructing a parking garage to help address the perennial parking issue.
"I think if I were considering [a solution] it would probably be a multi-level garage in the North side of Union Square," the mayor offered. "We could get 200 spots there. We might have to float a $5 million bond, and maybe do a couple of floors."
Audience member Charlie Huchet recounted a previous conversation with the mayor during which he said he had asked Keller about "recognizing and honoring" the Latino community, and Keller had said it was was not part of his job description.
"If I asked that same question now, how would you answer it?" Huchet inquired.
"Well, I don't know, Charlie, exactly what you're suggesting, because I have a very good relationship with the Latin community here," Keller replied. "If anybody ever goes to Dunkin' Donuts in the morning, there are anywhere from four to six of them there — many of them, they know who I am."
"Lambertville for instance has had a number of community meetings around the issue of how we view our Latin American citizens," Huchet followed up, again asking Keller to comment on his commitment to addressing the needs of the Latino community.
"I don't see the problem you're pointing out," said Keller. "I know most of the Latin community here. I go to all the restaurants. I go into the kitchens. They all smile. I just don't know that there's that gap there."
New Hope resident Sandy Santello asked Keller if he would continue to perform gay and lesbian weddings should the Supreme Court reverse its decision to allow same-sex marriage.
"As much as I really was annoyed with you for not doing gay and lesbian marriages before it was legal, my biggest concern as part of the gay/lesbian community is that we're losing our rights," explained Santello. "Fortunately, right now, Sharyn and I are married. So, if let's say six months from now they reverse the decision, would you follow it?"
"Yes," Keller responded. "I've sworn an oath to uphold the laws of the Commonwealth of Pennsylvania and the United States of America, and that was my position before, and I will not change that."
Keller concluded his section of the forum by again laying out the challenges facing New Hope and his vision for its future.
"I was here in 1969, and it was much more casual," Keller said. "And now, it's robust. Right now we're at a really high place economically. But we're getting close to a place where I think we will be challenged."
"I think with all these restaurants, it's a lot of food, continued Keller. "And those people have to find a place to park."
A Free Press online poll conducted between Oct. 10 and 11 using SurveyMonkey showed the two mayoral candidates in a dead heat.
While the mayor's office is largely ceremonial, its most important role being supervision of the local police force, that hasn't stopped this year's contest from becoming the most closely watched in recent memory.
Of course, there are other significant local races taking place on Nov. 7, not the least of which is the competition for Solebury Township Supervisor featuring Democrats Mark Baum Baicker and Robert McEwan vying for power against Republicans Dominic Marano and Mike Spadaccini.
Save
Save
Save
Save
Save
Save
Save
Save
Save
Save
Save
Save
Save
Save
Save