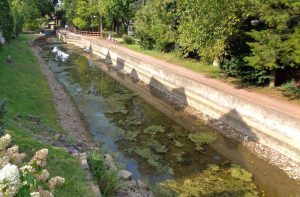 With most of America captivated by news of record rainfall and flooding in Texas and Florida this week, one small area of the country that's actually in need of some water may soon get a break.
A portion of the Delaware Canal that runs through New Hope has been dry since Aug. 27. The culprit: a broken pump upriver at Centre Bridge. Fortunately, the problem was fixable, and an impeller was sent off to Chicago for rehabilitation, according to Susan Taylor of the Friends of the Delaware Canal.
"The state park service stepped in and got to it quickly, and we should be back in business and pumping away for some time to come," she explained.
Taylor hopes the water may begin flowing back into the canal as early as Friday.
Water must be pumped into the canal from the nearby Delaware River at Centre Bridge in order to maintain an adequate level downriver in New Hope.
In fact, the most costly aspect of the whole operation isn't the equipment, but the power. It costs $1,200-$1,500 per month in electricity to keep the pump operating, and that money comes entirely from the local group New Hope for Our Canal (click to donate).
Save
Save
Save