New Hope Borough Council Overrules Historic Review Board to Allow Relocation of Odette's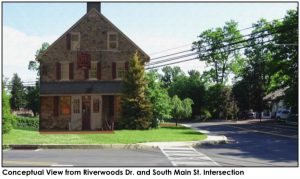 New Hope Borough Council overrode the wishes of its Historic Architecture Review Board (HARB) and most of the citizens who spoke Tuesday night to give the new owners of Odette's Restaurant approval for moving the historic stone core building at 274 River Road to the American Legion property at the intersection of Riverwoods Drive and South Main Street.
Developer Gateway to New Hope, LLC,  had previously been given the nod by HARB to demolish "non-historic" additions to the historic structure, but had been denied permission by the group to move the original stone structure to make way for a new "boutique" conference center.
During Tuesday's meeting, members of New Hope-based Friends of the Delaware Canal took the lead in blasting the relocation of the historic 1784 tavern and former cabaret restaurant, and in promoting an alternative site for the building first proposed in 2015. Borough lawyer T. J. Walsh attempted to explain how this third option did not exist,  and why the appeal of HARB's decision wasn't actually an appeal, and Council President Alison Kingsley politely sought to limit public comment.
Council also rendered a "neutral" decision Tuesday night on a Zoning Hearing Board (ZHB) application from Larry Panzica for the former Cryer's Hardware building at 20 S. Main St. requesting exceptions not granted by the ZHB that would allow an additional retail use at the property, along with improvements to the second floor apartment.
Borough Council gave the nod to the Cannon Square development application by Logan Inn owner Frank Cretella, along with the proposed development at 31 W. Ferry St., where Solebury-based luxury day spa Nurture hopes to relocate.
A resolution asking the state legislature to allow local police to use radar equipment for speed enforcement was approved Tuesday night, as was an amendment authorizing revenue from the "Business Privilege Tax" to be redirected to Barth Consulting Group to pay for a downtown "revitalization" plan at a cost of $30,000. The borough currently derives $76,000 annually from the Business Privilege Tax.
(Corrected 9 a.m. to reflect approval of projects via consent agenda vote)
Save
Save
Save
Save
Save
Save