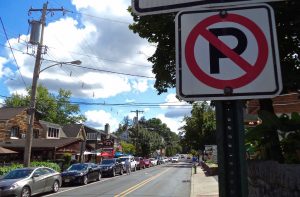 New Hope Borough Council will vote as early as Oct. 18 on a proposal that would see parking meter rates double on Main Street in what Borough Council President Bill Scandone said in a Sept. 3 statement was an attempt to "revisit the perennial conundrum of parking."
"There has been a significant amount of dialogue and research involved with the Revitalization Committee, and I have been involved with data gathering and analysis," Scandone said. "There was a 2010 study, and we're following up on that with information gathered since then."
If it seems unusual that a group charged with boosting New Hope's economic prospects would recommend raising parking prices for the very tourists on whom New Hope merchants depend for their livelihood, it's because they and some other New Hope officials believe that the shortage of parking spaces in New Hope is caused by employees of businesses snatching up all the good spaces near where they work on Main Street. Scandone, Revitalization Committee Chairperson Joseph Franlin, and other New Hope officials believe that doubling the rates on Main Street parking meters could drive local workers farther away from the center of town, leaving more parking space for visitors. Paying twice as much to park at Main Street meters "would be a bargain for visitors, given the rates charged by private lots," according to Scandone.
"Parkmobil and other devices have made parking meters more versatile," he explained. "Presumably, therefore, it would be possible to charge different rates for different locations throughout the borough."
In fact, the ability to raise parking rates quickly and easily was a major consideration in the adoption of the Parkmobil phone-based parking meter payment system by New Hope in the spring of 2015, according to Borough officials interviewed at the time. Parkmobil users also automatically receive warnings on their cell phones when their parking meters are about to run out. Unfortunately for the borough, revenue from parking tickets dropped as a result. Parking meter payments and parking tickets make up a significant portion of New Hope's annual operating budget, which has been under intense pressure for some time.
On Oct. 21, 2015, the Free Press reported that the Revitalization Committee of New Hope Borough Council had already recommended raising parking rates and extending parking meter hours of operation to compensate for the shortfall. At the time, the Revitalization Committee and Borough Council were also discussing a move to require "registration" by commercial building owners to assess fire safety, property maintenance and "appearance," and charging them a $65 annual inspection fee. That move ultimately morphed into the adoption of the Pennsylvania Uniform Construction Code by Borough Council last month.
Borough officials interviewed since 2015 have downplayed the negative impact of the Parkmobil system on revenue, saying at first that there was not enough data to support the assertion, and later saying that parking ticket revenue overall has not declined, without explaining how they are offsetting the loss from Parkmobil.
When the Revitalization Committee advised in 2015 that the borough should consider raising parking rates and extending meter operation times to compensate for a shortfall in parking ticket income, borough council initially supported a parking meter rate hike, but was reportedly lukewarm on extending hours, sources indicated. In the end, the whole proposal seems to have been tabled.
At the time, Revitalization Commitee Chairperson Joe Franlin vigorously denied that any parking recommendations or advice had been discussed with Borough Council. Franlin is one of four contenders being considered Sept. 20 for the Borough Council seat being vacated by Cliff Montgomery.
Ironically, Montgomery and fellow Borough Council Member Connie Gering appear to have been active in the Revitalization Committee's moves since 2015, belying assertions that the parking rate increase plan being considered on Oct. 18 is of recent vintage. Franlin continues to decline comment on questions about when he advised Borough Council on parking increases, and why the Revitalization Committee appears to be more concerned with closing the borough's budget gap than boosting business prospects.
"I would like to point out that many of the answers to your questions can be found in the 27 months of Revitalization Committee minutes and two annual summaries that have been produced during my tenure as President," said Chairperson Franlin in a statement.
Scandone refused to say whether the current plan is an extension of the one first presented to Borough Council President Claire Shaw and others in September 2015, or a new proposal by Franlin, and whether he and other council members initially adopted Parkmobil to enhance visitor parking convenience, or expand future flexibility to increase parking rates.
Reaction on the street to the Borough's parking scheme was generally negative.
"We don't want any parking increase placed on the back of tourists," said one angry retailer.
Another retailer was fatalistic, saying, "They should create a space for local employees to park. But they'll get an increase anyway. Let them have 25 cents if they have to. Just don't tell the tourists."
Mystickal Tymes owner and New Hope resident Eric Lee said he "could live with" a 25-cent parking increase, but that increasing some parking ticket amounts should also be considered.
New Hope resident, former Zoning Hearing Board Member, and Mechanic Street Mugs Owner Joel Roberts said, "This is a tourist town. A majority of the budget of the town comes on the backs of the tourists — parking meters, parking tickets, the Business Privilege Tax, and sales tax. So when you do something that hurts business, you're killing the goose that laid the golden egg.
"It's hard to understand how they can make it easier for tourists to pay for parking, then raise the rates on them," continued Roberts. "It takes advantage of them. That's ridiculous."
Two other residents interviewed Wednesday were adamantly opposed to any parking increase.
"We don't need our taxes going up because nobody comes here anymore," said one.
"A disaster," remarked another.
Meanwhile, Borough Council continues preparations for a parking rate increase.
"Assuming all the data are scrubbed and verified, a presentation is scheduled for consideration at the 18 October 2016 Borough Council meeting," wrote Scandone in a statement.
Save
Save
Save