New Hope Arts Installs Latest Outdoor Sculpture at Free Library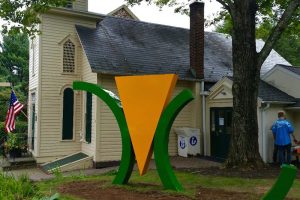 Michael Cooper's sculpture, "Earth Piercing," was installed at the Free Library of New Hope and Solebury on Friday. After seven hours of preparation, work was finally completed around 4 p.m.
New Hope Arts has been busy recently adding new pieces to the PNC Arts Alive Outdoor Sculpture Project, a walkable, family-friendly public art display that was first held in 2003.
Organizers say the piece was specially selected for the newly refurbished library site.
"The Outdoor Sculpture Project is on the move this summer," observed New Hope Arts Executive Director Carol Cruickshanks. "It is a thrilling time to install and appreciate what we've been able to do with our PNC grant."
New Hope Arts is expanding its celebrated outdoor sculpture exhibition as a recipient of a sponsorship grant from PNC Arts Alive.
New Hope Arts, Inc., is an incorporated non-profit arts center that serves the important purpose of showcasing the work of contemporary artists in the Lambertville/New Hope area and Delaware Valley region. It seeks to engage and enrich the local community through a broad array of programming that furthers the heritage of New Hope as a vital regional arts center.
Save
Save
Save