Former Bucks County Playhouse owner Ralph Miller to be sentenced Monday for insurance fraud
Former Bucks County Playhouse owner Ralph Miller will be sentenced Monday in a Philadelphia federal court by Judge Cynthia Rufe, following a May 2015 conviction for insurance fraud. He could face up to 30 years in prison.
Miller was found guilty by a federal jury of filing fraudulent insurance claims in the aftermath of a 2006 Delaware River flood that soaked the historic Bucks County Playhouse.
The trial followed years of delays, postponements, and superseding charges. The criminal case was tried in the Federal Court of the Eastern District in Philadelphia.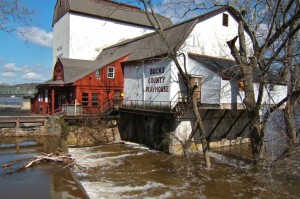 Miller lost the theater to a bank in 2010, and was charged with mail fraud and money laundering in 2011 by the U.S. Attorney's Office in Philadelphia (U.S. vs. Ralph Miller). The prosecution alleged that Miller submitted false claims for approximately $200,000 in lighting that he reportedly said was damaged in the flood (Miller's insurance company paid him $184,000 for the lighting out of a total $905,000 award).
The money laundering charge appears to derive from cashing the fraudulently-obtained insurance checks, according to documents filed in the case.
According to the complaint, Miller also filed fraudulent theft claims as owner of the Pocono Playhouse in Mountainhome, which was destroyed by fire in 2009. Miller owned the Bucks County Playhouse for more than 30 years before defaulting on mortgage payments in 2010. He also owned the Woodstock Playhouse in New York, destroyed in a 1988 fire, and the Falmouth Playhouse on Cape Cod, Mass., destroyed by a 1994 fire.