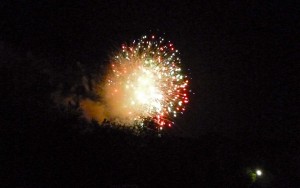 Fireworks — some people love them, some hate them. But if you're planning to host a major display, it's probably a good idea to have a chat with your local fire department rather than risk an explosive situation.
This concept was apparently lost on the Greater Lambertville-New Hope Chamber of Commerce leadership, as officials across New Hope were stunned Tuesday by the group's announcement a day earlier that it would host three fireworks shows this summer in both towns. A fourth show is planned for New Year's Eve.
"The skies over the Delaware River will be filled with fireworks for three nights this summer, beginning with the Independence Day weekend," reads the Greater Lambertville-New Hope Chamber of Commerce (GLNHCC) press release.
And here lies the rub: New Hope Eagle Fire Company has made no secret in public pronouncements over the years that they can't guarantee the safety of the public under conditions that seriously hamper their access and mobility. They barely tolerated previous years' displays.
But the fireworks plan announced by GLNHCC ties the shows to national holidays, and the initial launch is during Fourth of July weekend. That timing, along with a hiatus in fireworks events after the New Hope Chamber canceled them in 2014, means the Friday, July 3 event could draw a massive crowd to New Hope's narrow colonial streets that fire and emergency vehicles could find impossible to navigate.
Making matters worse, the July 3 event is being lengthened into a full 15-minute show, according to GLNHCC Executive Director David Morgan, costing a total of $10,000 to produce.
And it's not only New Hope's firefighters that were caught off-guard. Those reached at New Hope Borough Hall and the New Hope Police Department had never heard of the plan to revive fireworks on a limited basis this summer, although GLNHCC said yesterday that "the program has received the support of local officials in both New Hope and Lambertville" and "the Chamber is currently working with both the City of Lambertville and the Borough of New Hope to finalize the logistics."
Huh?
"We talked to the [New Hope] mayor about it," explained Morgan. "He supports the idea, [Lambertville] Mayor DelVecchio supports the idea, and we're working to finalize the rest."
Continued Morgan, "It's what our members have been asking for, and we worked diligently to come up with a scaled back plan that would work for everyone."
"Not going to happen," said one source familiar with New Hope fire department concerns. "It won't fly," said another borough official.
According to the GLNHCC plan, fireworks will be launched from a barge (supplied by the fireworks company) near the New Jersey shoreline south of the New Hope-Lambertville free bridge, Morgan said. The location received clearance from the New Jersey Department of Environmental Protection, which declared that the limited number of fireworks shows would not endanger a nesting family of bald eagles located near the Holcombe-Jimison Farmstead, he added.
In addition to the July 3 event, fireworks shows have been scheduled for 9:30 p.m. on Aug. 14 and September 6, along with a special early show on New Year's Eve.

"Bringing back fireworks has been one of our top priorities, but we wanted to do it in a responsible way that would make them truly special and minimize inconvenience to residents and businesses alike," said Morgan.

Morgan confirmed that "seed" funding for the fireworks program is being provided by Rago Arts, Riverhouse at Odette's, Inn at Lambertville Station, Logan Inn, and the Raven, and that a top priority for GLNHCC will be raising additional cash for future fireworks shows.