Sensing opportunity, Lambertville Chamber of Commerce eyes expanding reach to New Hope and beyond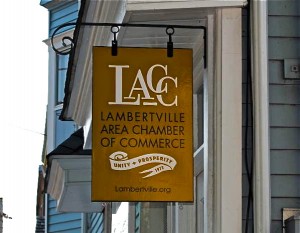 Wilson Weed, the dynamic and sometimes controversial president of the Lambertville Chamber of Commerce, thinks there's huge growth potential in marketing his town's charms alongside those of New Hope.
The concept has a definite logic from a marketing standpoint, and Weed is not alone in recognizing that the tourist "whole" may indeed be larger than the sum of its towns (or boroughs).
Some have gone as far as to suggest a merger of chambers across the river is in the wind, a persistent rumor the spokesperson for the remaining five Greater New Hope Chamber of Commerce directors says simply doesn't hold water.
"There are no plans or talks to merge with the Lambertville Chamber," she said.
"We've had talks in past," said Weed in a recent interview, not referring specifically to any organization. "I can't go into detail, but significant changes are ahead which we feel will be very tempting to New Hope businesses. We realize there's strength in numbers," he added.
"It doesn't make sense to have two chambers within an eighth of a mile," continued Weed. "We're trying to combine all the resources in the area."
Weed and his board have been devoting time of late on decisions around these "significant changes," some of which include the appointment of a new full-time "executive director" this week, whom along with an administrator, actually get paid.
"We're making these moves so when we look to expand, we have people in place to do it," explained Weed. "We're going to be moving in a new direction. We'll need to do business development work with both state governments to make New Hope and Lambertville a focus in both states.
"We'll be more inclusive," Weed continued. "We're different communities, and that's great. We will be looking to aggressively pursue joining up with New Hope businesses."
Weed also has his eyes set on nearby Stockton, NJ and Washington Crossing to boost his organization's membership roll.
"We're putting a system in place to welcome everybody and anybody, when they want," Weed said. "There's a lot of potential for growth. There's no reason we can't reach 500 members.
"I don't want New Hope to be like Lambertville, or Lambertville like New Hope; it's the combination of the two that makes it special."
The Lambertville Area Chamber isn't alone in sensing the vacuum created by the New Hope Chamber's decision to go on hiatus until March. The New Hope Business Alliance, Bucks County Playhouse and VC 2015 have all attempted to position themselves as one-stop, inclusive promoters of New Hope business and tourism.
Said the New Hope Chamber spokesperson, "We are hoping to reorganize the chamber and its direction going forward. All of our terms will be up very soon, so we hope to find new people to serve."