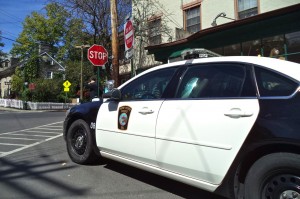 New Hope Police Department
August 29, 2014 –  At 9:13 p.m., police cited Frances Pisano, 54, of New Hope, for Disorderly Conduct, after she created a disturbance in the area of West Mechanic and New streets.
August 31, 2014 –  At 9:12 p.m., police arrested Nancy Gaines, 59, of Warminster, for Driving Under the Influence of Alcohol, following a stop of her vehicle at Bridge and Main streets.
September 2, 2014 –  At 4:36 p.m., the owner of a South Main Street business reported to police that at some time during the prior 16 hours someone had removed a sign from the driveway of the business. The sign is described as metal, six feet tall by two feet wide, with the word "Hookah" on it, and is valued at $350.
September 3, 2014 –  At 12:34 p.m. a West Mechanic Street resident reported to police that at some time during the prior 24 hours someone had removed a package containing medications valued at approximately $150 from his mailbox.
City of Lambertville Police Department
On September 15, a Lambertville resident arrived at police headquarters to report a phone scam.
The victim indicated she received a phone call from a person identifying themselves as a representative of JCP&L. This person advised the victim she owed a large sum of money for an unpaid electric bill. Victim was given instructions on how to pay the bill. The victim was to purchase "GreenDot" re-useable Debit Cards, four total, then call a specified telephone number after purchasing the cards and providing the authorization code on back for each card. The victim did as instructed. Later, the victim contacted JCP&L and was advised they had not contacted her or received any money. JCP&L does not collect debts in this manner. Ptl. Bast investigated.
Case #14005876:
Jud Davidson, 62, of Lambertville was arrested on September 19.
Lt. Brown received anonymous information of possible marijuana vegetation being grown in the back yard of #1 Lincoln Avenue. Subsequent to investigation, six 5′ to 8′ tall marijuana plants were found to be growing on Davidson's property. Davidson was placed under arrested and charged with Manufacturing and/or Distributing. Davidson was later released with a pending court date. The marijuana plants were removed and secured in evidence.
Case #14005882:
On September 20, Lauren McManus reported her bicycle had been stolen.
McManus indicated that between September 19 and September 20 her bicycle was taken from her front porch where it was unsecured. The bicycle is described as a Nishiki hybrid bicycle (mountain bike style), purple in color. Ptl. Gramlich investigated.
(Information in police reports is provided by law enforcement officials, and is assumed accurate. All suspects and arrested persons are presumed not guilty unless proven guilty in a Court of Law or until such rights are waived by the accused.)