New Hope Borough Council meeting moved to Jan. 28; Bucks County Playhouse zoning discussion put off indefinitely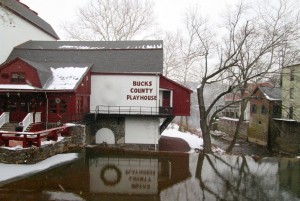 In a statement Tuesday morning, Borough Hall said, "New Hope Borough Council has cancelled its public meeting scheduled for 7:30 p.m., Tuesday, Jan. 21 due to adverse weather conditions. This meeting has been rescheduled for Tuesday, Jan. 28 at 7:30 p.m. at the New Hope Community Room, located at 125 New Street.
"The public hearing for the Riverfront Cultural Overlay District ordinance will be rescheduled to a future public meeting because of the extensive public notice requirements set by state law."
A proposed "riverfront cultural overlay district" would have been be open for public discussion at the meeting originally scheduled for 7:30 p.m. Tuesday.
Council at its Nov. 19, 2013 meeting approved the proposed special business zone which would allow the Bucks County Playhouse to expand its back deck into a full bar and convert the former Club Zadar into a hotel/restaurant/bar.
The Jan. 28 Borough Council Meeting will be held at the New Hope Community Meeting Room, 125 New St., the site of the former St. Martin of Tours Church. The tentative agenda for this meeting is available online, but will change — check a day or two prior.
Among the other items up for review is consideration of approving the issuance of a Certificate of Appropriateness, as recommended by HARB, for:
(1) 350 South River Road, (Unit D3), by Dan Foitl, for replacement of three windows;
(2) 350 South River Road, (Unit A11), by Michelle McElderry, for installation of a patio door;
(3) 15 North Main Street, by Top Notch Accessories/Ellie Hento, for installationof a sign; and
(4) 350 South River Road, (Unit D10), by Bernie Munk, for replacement of four windows; and
(5) 88 North Main Street, by Christopher Brashier, for amendment to a Certificate of Appropriateness, dated April 17, 2012, for changes to the back left and front right facade
Also up for discussion and review are:
Consideration of appointing Elisa Rose Fusco to the Revitalization Committee for a term expiring on December 31, 2014
Consideration of appointing Jim Jolly to the Board or Directors of the Landmark Towns of Bucks County for a term expiring on December 31
Consideration of a request by Run Bucks, LLC, for a banner sign and a special event permit to allow the 2014 Bucks County Marathon Series
Consideration of approving a proclamation declaring March 2, 2014 as Benjamin Parry Day
Consideration of a request by the New Hope Historical Society to allow display of a 4' by 8' banner from February 10 thru March 4, 2014
Review and discussion of Zoning Hearing Board appeal no. 380, submitted by George Michael, for T. M. P. Parcel No. 27-
-10-118, located on East Randolph Street, in the Central Commercial Zoning District, and seeking certain variances to allow construction of a single family dwelling unit.