Bucks Health Dept.: No cases of coronavirus yet confirmed in New Hope, Solebury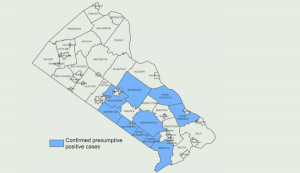 Bucks County officials on Thursday released information on which towns have cases of coronavirus, and New Hope and Solebury have none confirmed yet.
Buckingham, Doylestown, Lower Makefield, Northampton, Upper Makefield, Upper Southampton, Warminster and Warrington Townships have had at least one resident counted among the 14 coronavirus cases.
A map showing the municipalities on the county's data portal will be updated as new cases arise.
Anyone living in a municipality with a COVID-19 case shouldn't panic, said Health Department Director Dr. David Damsker, while those in municipalities showing no positive cases yet "shouldn't be celebrating that there's no cases in your municipality, because that's probably not true."
With signs of community spread beginning to appear in Bucks County, Damsker said, the map will "show, with community spread, how it slowly will affect all municipalities. So as long as everyone looks at it with an understanding of why we're doing it, it can be a successful tool."
The county's current total reflected two new confirmed cases of COVID-19, Damsker said at a Thursday briefing. The two new cases involve the first child known to be infected in the county, and an adult who works out of state.
Only one of Bucks County's cases has required the patient to be hospitalized; the others have been isolated at their homes.
"We are starting to see potentially our first indications of some community spread," Damsker said. "We know that Montgomery County has declared community spread there, and so we know it's just a matter of time before we start to have it here."
Investigation into a couple of recent cases announced before today has failed so far to determine the source of infection.
"We're still looking, but our initial indications are that we may not find any," Damsker said.
Damsker said that in a case confirmed on Wednesday, a thorough contact trace was conducted, and there was no sign that the patient had traveled outside of the county or had contact with another person who was infected.
"Given what's been going on in [Montgomery] county … we are definitely moving our way there," Damsker said of community spread. "I think anyone would be silly to think it's not going to happen in Bucks County also."
Damsker said that only one person in the county's 14 cases has experienced serious symptoms, and that some of the earlier patients are already well and out of isolation. "They're doing just fine," he said.
Multiple commercial labs are expected to offer expanded testing in the near future, Damsker said, and with more testing will come more cases. He predicted that most of the new cases resulting from additional private testing would be people with mild symptoms who recover quickly.
He urged healthy residents to limit their social interaction within reason, and warned anyone who is sick to stay away from other people. He said the people who are testing positive now were infected before current social distancing precautions began.
"We're not going to see the effects of what we're doing now for a week or two," he said. "What we're doing has never been done before. What we're doing is going to work to a large degree because people are staying home. People still go out to do some things, but it's still different from the normal functioning of our society."