Outdoor Workshop hosted by Award-Winning Painter Kelly Sullivan
Date/Time
Date(s) - 06/04/2016 - 06/05/2016
All Day
Location
Hotel du Village
Category(ies)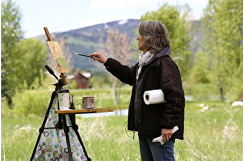 With the impending arrival of summer weather, award-winning painter Kelly Sullivan will teach a weekend intensive Plein Air Workshop in the beautiful country landscape of New Hope, PA.
Plein air, which means 'open air', is painting in real-time response using natural light. Sullivan will lead students in capturing natural light and the surrounding landscape of the historical grounds of Hotel Du Village in New Hope on June 4th to June 5th, with bolster sessions on June 6th & June 7th.
The weekend intensive workshop can accommodate up to 20 participants and is open to all skill levels. The workshop will introduce the basics of outdoor painting to beginning painters, as well as reinforce and evaluate the more complex decisions made by the advanced painter. To help students learn in style, the workshop includes access to beautiful grounds with creeks, ponds, old stone buildings, tall trees – AND, morning coffee & tea service, all day beverages, access to bathrooms, bountiful and delicious farm-to-table lunches, and end of day wine and cheese critiques.
Compliment the weekend session with two additional days of demos, painting, and critiques. The two-day bolster session is only open to students who takes the weekend workshop or students who have taken Kelly's previous oil painting classes. The two-day bolster session will have less formal instruction time, and more time to practice.
The class is open to beginner and intermediate painters. To register or learn more, contact Majell Yerenburg at Majell@kellysullivanfineart.com or visit kellysullivanfineart.com
WEEKEND WORKSHOP
Saturday June 4th – Sunday June 5th
at Hotel Du Village in New Hope, PA
*Early Registration is $350; $400 after May 1 for two full days
* Hotel stay not included; all students must have their own painting supplies; Bolster Workshop (6/6-6/7) does not include lunch and refreshments; 20 students maximum; limited French Easels available for rent.
About Kelly Sullivan
Kelly Sullivan is an award-winning artist and founder of FingerSmears™. Sullivan signature method of collaborative art has raised over $150,000 for charities across the country. Over 80,000 people including Bruce Springsteen, The Rolling Stones, Harrison Ford, and among many others, have participated in her collaborative paintings. They have been commissioned to commemorate All Star Baseball Games, The US Open, The National Walk For Epilepsy, many corporate and charity events around the world.  Nine of Sullivan's traditional oil paintings are featured in the hit CBS political drama "Madam Secretary," gracing the walls of the McCord family home.  Sullivan's working studio is on the third floor of The Peoples Store Antique Center located on 28th Union Street, Lambertville, NJ 08530.