All-female tribute group Lez Zeppelin at Havana New Hope
Date/Time
Date(s) - 09/27/2014
8:00 pm
Location
Havana
Category(ies)
Published On: Sun, Aug 3rd, 2014
All-female tribute group Lez Zeppelin to rock Havana New Hope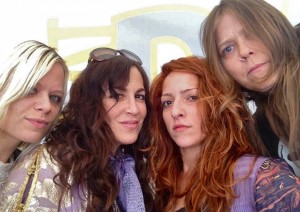 New York City-based all-woman band Lez Zeppelin is bringing their own brand of gender-bending Led Zeppelin interpretation to Havana New Hope on Sept. 27.
The have a reputation for delivering a hard-hitting, over-the-top Zep experience that impresses audiences with its raw power and balance between faithful re-creation and stylistic originality.
Bottom line: Lez Zeppelin isn't a cover group or your average tribute band — they honor the original, excessive Led while bringing on a whole lotta Lez.
Saturday, Sept. 27 at 8 p.m. (doors 6 p.m.).
Tickets are $25 for general admission, and are available online.