Chive Cafe & Catering opens its doors in Lambertville at former City Market site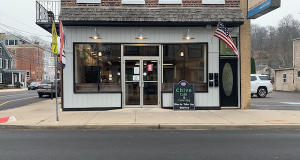 Chive Cafe & Catering opened for business Saturday at 74 N. Main St. in Lambertville, the former site of City Market deli/cafe.
The breakfast and lunch restaurant developed a sizable following at its previous location on Route 202 in Lahaska.
"We're so excited to be here and to be part of community in Lambertville," said owner Michele Schibel. "We hope everybody loves us!"
Business was brisk on Saturday, with the buttermilk fried chicken sandwich among the most popular offerings. Other customer favorites include the Cobb salad, grilled cheese panini, breakfast sandwiches, lamb sausages, and vegetarian selections like the black bean bean burger and falafel sandwich, all made from scratch.
Open seven days a week from 8 a.m. to 3 p.m., Chive Cafe & Catering offers box lunches, delivery, curbside pickup, and limited indoor dining, with online ordering available soon.