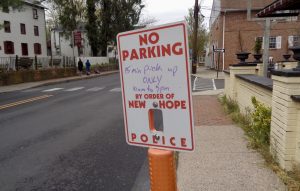 New Hope Mayor Larry Keller on Thursday rescinded the emergency parking regulations he proclaimed in April.
Regular parking rules will take effect again at 10 a.m. Friday.
Keller issued emergency regulations April 9 limiting parking on South Main Street to a maximum of 15 minutes and only for the purpose of picking up takeout food.
The borough imposed the restrictions to stop visitors from congregating on South Main Street in violation of social distancing recommendations designed to limit the spread of covid-19.
"There have been a very large number of visitors to the borough who have been frequenting the area of South Main Street," read the mayor's April proclamation. "These visitors have been in violation of the social distancing rules put in place by the PA Department of Health and PA Governor's Office. They have also been congregating in groups of ten or more to consume the takeout food that is being made available by the eating establishments of South Main Street."
The regulations had been enforced on South Main Street from Bridge Street to Route 232, from 10 a.m. to 7 p.m. daily.