River Cat Cafe in New Hope to close Sept. 30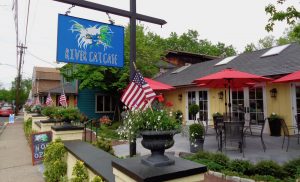 The River Cat Cafe at 142 S. Main St. in New Hope will close its doors on Sept. 30.
Despite being one of the borough's most popular breakfast destinations, the restaurant ran afoul of local zoning ordinances, and owner Alison Kingsley, a former president and current member of New Hope's borough council, has grown weary of the ongoing legal battle.
"Our doors will close on September 30th because of an adverse decision by the Zoning Hearing Board and the cost and uncertainty of pursuing the appeal," she said in a statement Wednesday. "We would like to acknowledge the incredible support shown by the local community for an enterprise that was intended to be for the local community."
River Cat has been under fire since the summer of 2018, when local businessman George Fernandez complained about the location of dumpsters used for food disposal near an apartment building he owns.
But the bigger issue has been zoning officials' contention that the property was never approved for food preparation based on a 2015 decision, merely service of coffee, tea and ready-made snacks. A small retail shop operating on the premises had also drawn scrutiny.
Kingsley and the owners of the property appealed the violations issued by the zoning officer in November 2018, which also included an allegedly unlawful encroachment into a side yard and inadequate parking. They also sought a variance that would allow them to continue preparing food and selling non-food items.
But on April 11 of this year, the New Hope Zoning Hearing Board rejected the appeal and variance request.
Not surprisingly, the restaurant's impending demise has elicited disappointment, anger and frustration among many of its loyal patrons. Kingsley hints, however, that a copycat cafe may be in the works.
"Because cats have nine lives, we urge you to keep your eyes open for the next incarnation of the River Cat," she said.