Study: Lambertville More Supportive of LGBTQ Community Than New Hope
The City of Lambertville last week received a 98% score in the 2017 Human Rights Campaign Municipal Equality Index (MEI), while New Hope was awarded an 80% grade.
"The MEI demonstrates the ways that many cities can—and do—support the LGBTQ people who live and work there, even where states and the federal government have failed to do so," said the Human Rights Campaign (HRC) in its report.
"Cities are rated based on non-discrimination laws, the municipality as an employer, municipal services, law enforcement and the city leadership's public position on equality," the group said.
Lambertville attained nearly perfect grades in all major categories — the second highest score in New Jersey.
"I know that our diversity enriches our community and makes it stronger," Mayor Dave Del Vecchio said. "That is why we work hard to ensure that all of our residents, including our LGBTQ residents, are treated equally and with respect. I am proud to receive these high marks from the Human Rights Campaign."
"Members of the LGBTQ community participate actively in city government, serving on the city council and on a broad array of city boards and commissions," Lambertville officials added in a statement.

New Hope scored well on its anti-discrimination laws, the inclusiveness of its municipal services and programs, and its relationship to the LGBTQ community, but stumbled as an employer, falling short with regard to transgender-inclusive health benefits and contractor non-discrimination ordinances.
The borough also scored poorly on the fairness of its law enforcement by failing to report hate crime statistics to the FBI.
Elsewhere in Pennsylvania, Pittsburgh and Allentown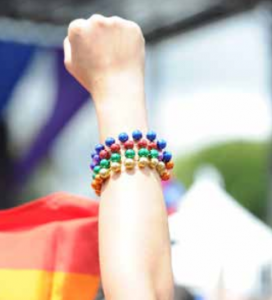 received a 100-point score for the first time. They joined Philadelphia, a 100-point city in the MEI since the inaugural report in 2012.
Pittsburgh was the first city to pass an ordinance protecting youth from conversion "therapy" in the state, followed by Philadelphia and Allentown.
Ambler Borough, Dickson City, Wilkes-Barre City, Carlisle Kennett Square, Phoenixville, Royersford, Camp Hill, Stroudsburg, and Upper Dublin Township meach passed nondiscrimination ordinances, taking the state total to 44.
The information reflected in the study was gathered by the MEI team and compiled into draft scorecards using publicly available information. Cities were then offered an opportunity to review the scorecards, ask any questions, and submit any additional information they wished the MEI team to consider.
MEI says it sent out a letter in April to mayors and city managers notifying them that their cities were being rated by email and certified mail, followed by a draft scorecard sent to the mayors and city managers in June also via email and certified mail. The feedback window lasted four weeks. Finally, cities were sent their final scorecards and information MEI 2017 in the same way. Equality Federation state groups also were able to review the scorecards and provide feedback to the MEI team prior to publication, according to the group.
As the largest civil rights organization working to achieve equality for lesbian, gay, bisexual, transgender and queer Americans, the Human Rights Campaign represents a force of more than 3 million members and supporters nationwide — all committed to making HRC's vision a reality. HRC envisions a world where lesbian, gay, bisexual, transgender and queer people are embraced as full members of society at home, at work and in every community, says the group.
Save
Save